When the world cancelled all sports events due to the COVID-19 Pandemic and the motorsports industry went online with eSports and iRacing specifically, we responded by creating an iRacing Interface to convert the iRacing data from it's memory snapshot at 60Hz to more conventional MLP and eRMON data feeds. This allowed users of traditional timing and scoring software (and RaceTools in particular) to continue using the tools they knew in a new environment. And we did this not for profit (the software is available for no additional charge) but to support our customers and future customers. If your team is racing on iRacing.com and want to use RaceTools, let me know and I'll help you get set up.
The iRacingInterface software runs on the same machine as the iRacing Simulator software. You can be logged on as either a driver or a spectator for the session.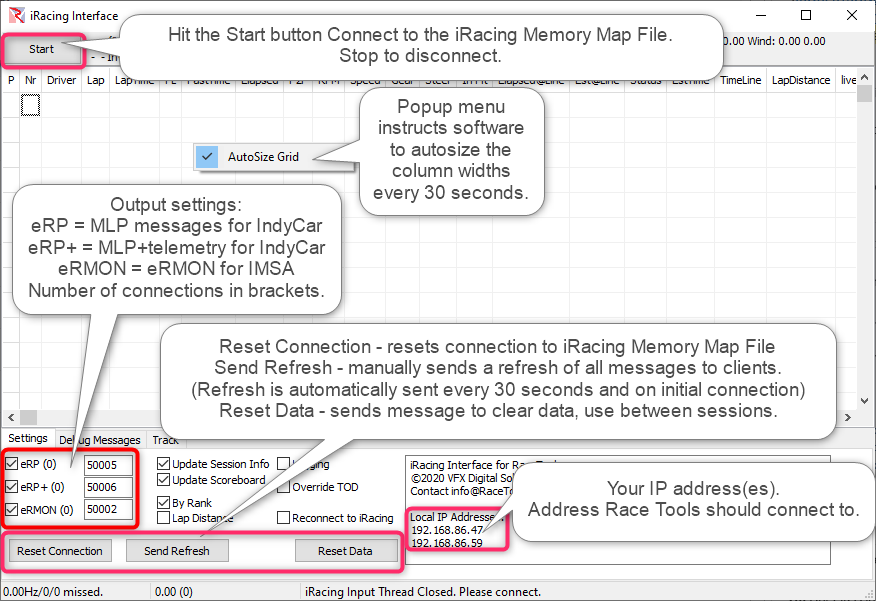 For optimal performance, you will want to set the MaxCars to 63 and make sure your Connection Type is set to DLS, Cable, Fiber, 1Mbit/sec or faster.