RaceTools has a report designed to help teams manage their drive times. The Drive Times report provide a live (updated in real time) display of the drive times for each driver. Filters are available to limit the display by class or just by your team or selected car(s).
The Stint Times report provides more detailed information about each stint.
During yesterday's Mobil 1 Twelve Hours of Sebring, one team exceeded their 4/6 drive window.

It's easy to see it in hindsight, but how do you prevent it? The Drive Times Report displays each driver's Total Time, TimeToMax, TimeToMin and TimeInWindow, updated in real time so you can know how much time each driver can stay in the car. The TimeToMin and TimeToMax are pretty easy, but the TimeInWindow is a bit more complicated. RaceTools includes logic that looks back at the previous stints and has a sliding window so that it will even count up, when a driver is out of the car.
I don't know the circumstances to why Simon Pagenaud was put in the car after only sitting out 1:53:22 instead of the usual 2 hours between stints. Perhaps Jimmy Johnston wasn't feeling well and needed to get out of the car one stint early and Kamui Kobayashi wasn't available to go back in because he had just gotten out of the car, but whatever the reason, if Simon had to go back in, he should have only stayed in for one stint.


At the next pit stop, they should have taken Simon out of the car. He only has 29 minutes left in his drive time window and a full stint is 36 minutes. Again, perhaps no other drivers were available to go back in.


Now I'm really confused. Certainly one of the other drivers is available by now. They must know their drive time is running out. The caution is the perfect time to fix the situation.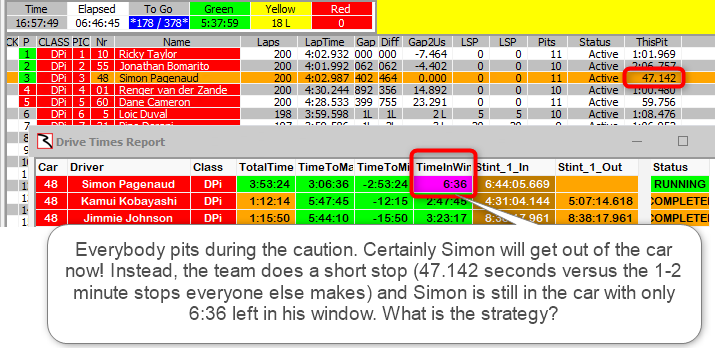 Nope. When everyone pits during the caution, instead of changing drivers, they do a short fill and get the car back out with only 47 seconds in pit lane, fastest of the group.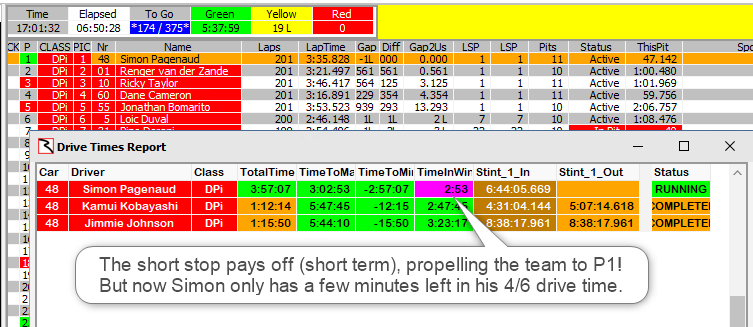 Apparently it was more important to the team to get out fast and lead a lap. But the lead was short lived and soon Simon's 4/6 drive time would expire, causing the team to pit (at this point it was too late so they might as well have stayed out) and receive a post race penalty of last in class.

How to avoid the penalty? Keep drivers out for 2 hours at a time. If that's not possible or advantageous, keep an eye on the Drive Times Report to give you feedback on when you need to get a driver out of the car. When the TimeInWindow goes yellow (less than 30 minutes), double check your numbers (the report is only as good as the data and dropped data can result in inaccuracies) and act accordingly. If the numbers match, get your driver out as soon as possible.
To me, while putting Simon back in after being out of the car for only 1h53 minutes might have been unavoidable due to an unexpected short stint for Jimmy Johnson, keeping Simon in the car past one stint was a mistake, and not changing drivers during the full course yellow baffles me and should have easily avoided.
With the Drive Times Report, strategists can see at a glance the amount of time available for each driver, both in and out of the car, so that you are given plenty of notice when a driver must exit the car, or when he/she can get into the car.